Families registering their student(s) will pay $290 of the $580 Registration Fee.  The remaining balance of $290 plus August tuition will be due by August 8, 2021. Remaining nine months will be billed September through May.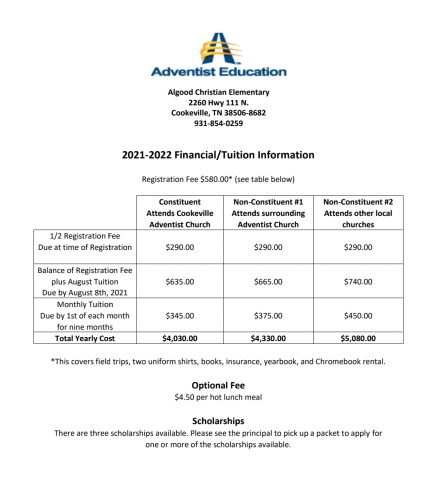 General Financial Information
- When families register their student(s) during early registration (March-May 31), they will pay $290 of the Registration Fee per student. The remaining balance of these fees plus August tuition will be due by the start of August prior to the first day of school.
- Students without August's tuition paid will be asked not to attend until it has been paid.
- Tuition must be paid promptly by the 5th of each month.
- If your account is 30 days in the rear, you have five business days to contact the school board chair to make financial arrangements, or on the 6th business day, your student(s) will not be allowed to attend.
- Student report cards, records, and transcripts will not be released until all financial obligations have been met.
- No student will be re-enrolled until all outstanding financial obligations have been resolved.
- Registration fees are collected for registration processing, insurance, yearbooks, library fees, testing materials, various other instructional materials, textbook rental, field trip t-shirt, and field trips. These fees are non refundable.
Our school has multiple grants and scholarships available. Please contact our school for more information or an application.
Evangelism Scholarship
Cookeville Seventh-day Adventist Church Scholarship
PFE (Partnering for Eternity) Scholarship  ACE has partnered with SFFC Foundation to provide scholarships through mentoring.
.